Change The Future Of Your Business; How And Why To Hire A Digital Marketing Agency!
In 2021 and beyond, the importance of digital marketing and digital marketing agency will be pivotal. Marketing was always a critical function in the success of any business, irrespective of primitive times or post-industrialization business era. However, technology and innovation have re-pictured the idea of marketing and promoting your business.
I can prove it to you with some real statistics. In the US alone, 99% of total businesses are SMBs, and how do you think they are bringing in revenues?
The answer: Leveraging the power of the internet!
81% of shoppers go for online research about a product or service they intend to purchase. Driving sales and building brand awareness are the top priorities of SMBs. Together, the two marketing objectives take a whopping share of 99.7% of total digital marketing efforts.
And what do you think, why are these businesses focusing on the two strategies?
Well, the reason is obvious when there are billions of users browsing and surfing the internet every minute of the day.
In the modern definition of marketing, you should grow your revenues by going to places where your customers are already present. And we all know where a business can get the most number of leads; Social media and the internet.
I want to prove that it is inevitable for every business to focus on digital marketing aspects besides traditional marketing. I am confident in saying that conventional marketing has lost most of its share. It is hard to succeed for any business without hiring digital marketing agency services.
Before telling you how to choose The ONE digital marketing agency for your business, I will tell you how an online marketing agency works.
How Does A Digital Marketing Agency Works?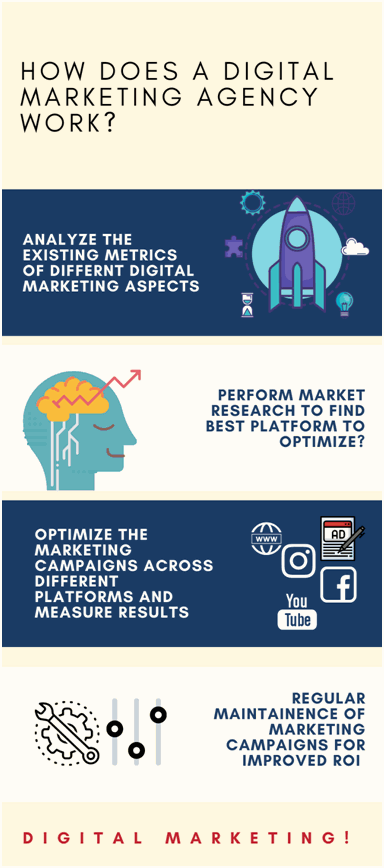 A digital marketing agency is a firm that offers marketing services related to online marketing. Check out my blog that covers everything about digital marketing and digital marketing agencies.
Most generally, all digital marketing agencies work similarly. However, different functions and working of digital marketing agencies vary according to the customer needs and marketing objective.
 If a workflow of an inbound marketing agency is conceptualized for SEO service, it will be something like:
After signing up, a digital marketing expert will first analyze the website traffic of your business site.
They will conduct market research and consumer research for your product or service. According to your customer base and buyer's persona, they will decide which platform must be optimized for more sales.
The strategy will be devised and implemented.
Results will be measured.
The gaps will be addressed. Afterward, continuous maintenance will be done for improvements and sustainable growth in revenues.
Digital Marketing Agency Services
Some of the services offered by a digital marketing agency USA or anywhere else are:
Search Engine Optimization(SEO)
Search Engine Marketing(SEM)
Paid Advertising on Search Engines And Social Media Platforms
Content Marketing And Optimization
Lead Generation and Optimization Of Sales Funnels
Website Strategy
Email marketing campaigns
And a lot more.
What Are The Outcomes Of The Efforts?
When a digital marketing expert works any of the hurting areas in your online marketing, the following outcomes are expected:
It will drive more sales, and ROI is also improved as a result. When you're working on brand awareness through online marketing channels, it improves non-digital marketing too.
Wondering how?
Well, when the customers recognize your brand, they will not only spread word-of-mouth but will always respond to your marketing efforts through any channel.
The other fruits that good digital marketing optimization will bring to you include:
The brand image is built and improved
Through search engine optimization, when customers look for any product related to your industry, there are higher chances of discovering your business website in top search results.
With social media ads, your online visibility is increased.
Email marketing can be very beneficial for B2B businesses looking to drive more sales. According to some studies, a B2B sales process speeds up by 20% if mobile marketing is used at any stage.
Now, it's time to choose a digital marketing agency and work to optimize your business's internet marketing.
Which Is The Best Digital Marketing Agency?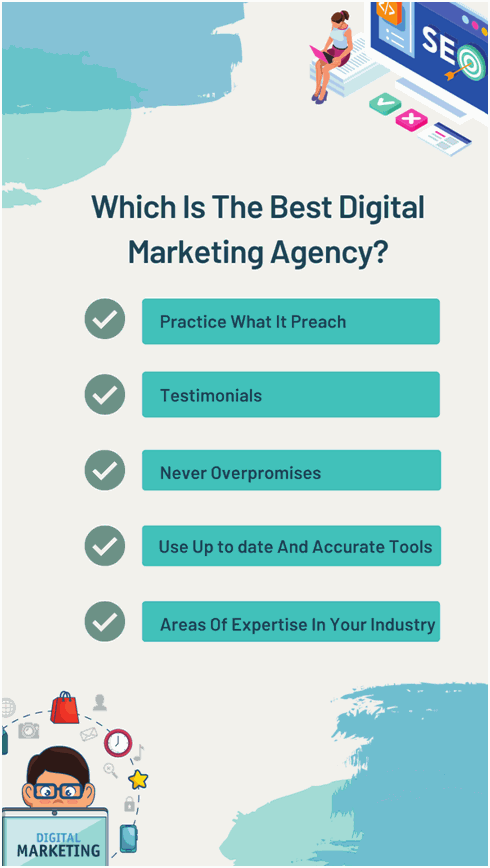 There might be hundreds of digital marketing agencies working around and specialized in different niches of digital marketing. But is every digital marketing good enough to take care of your business?
Well, let me tell you that there are 5585 digital marketing agencies in the USA alone as per figures of 2021. The growth of digital marketing agency USAbusinesses has increased by 13.6%. 
How can you choose the best marketing agency to make tailored solutions for your business?
Fortunately, you can find THE ONE.
Continue reading to find the best digital marketing agency USA or any region of the world.
When choosing digital marketing for optimization and online marketing of your business, check if the given qualities are present in the specific digital marketing agency.
It Follows What It Preach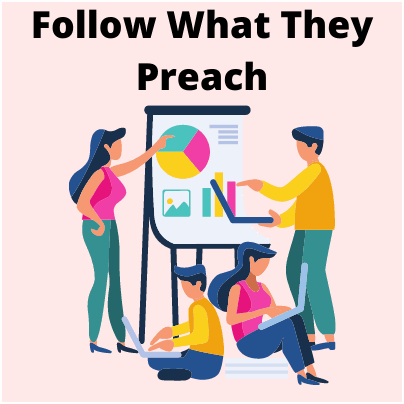 The first question to ask yourself during the process of finding the right digital marketing agency for your business is:
Does the marketing agency practice what it preaches?
A digital marketing company promises you to provide a top-notch, user-friendly, and optimized website. How can you know they will actually deliver it?
Yes, you can guess the outcome by looking at their website interface, optimization, and user-friendliness.
Well, there are also other checkpoints to assess if the digital marketing agency sticks to what they claim to do.
You're asking a company to provide Social media optimization and search engine marketing for your business! What are the ROI and metrics of their own social media marketing campaigns and PPC campaigns?
By just looking at the marketing metrics of their website campaigns, you can tell if it is The RIGHT company for your business.
Don't get overwhelmed to hire the agency after just reading the first point. There is still a probability that the digital marketing agency might have hired another digital marketing company for their SEO!?
Well, for all the good reasons, there are other checkpoints to analyze before closing the deal.
Have Good Testimonials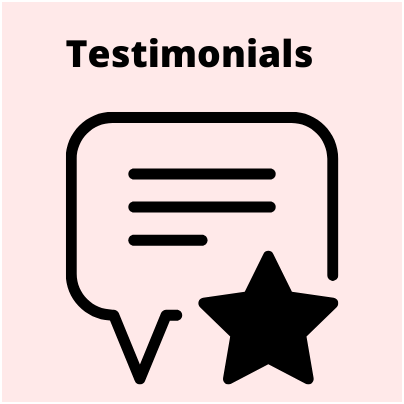 Testimonials are a good way of assessing how well a company had been doing in its business! I call testimonials the living proof of a business's right doings and wrongdoings.Ask them about their testimonials with previous customers, and any live portfolio will be a plus point.
And if there is the possibility of having a word or two with the old clients of the digital marketing agency, it can further satisfy you if the company is the right choice for your business.
You can not be luckier if the specific digital marketing agency holds experience in the same industry as yours. You can analyze and relate to the ROI and metrics of the old clients in a better way to finalize the deal.
Stop! Are you going to send a contract-signing email to that digital marketing company having good testimonials?
Analyze all checkpoints, and if each one holds true, only then can you declare a digital marketing agency the best in its business!
Do They Use Latest Tools And Methods?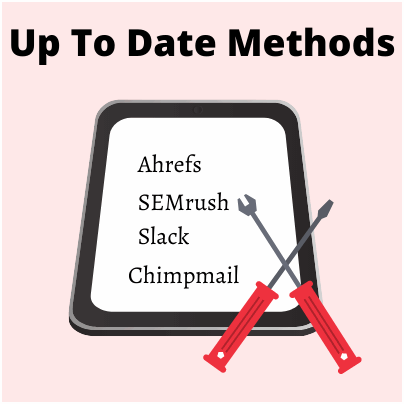 Well, many of the business owners find it odd asking about the tools and methods used by an agency.
Take my words that if the company uses up-to-date and proven methods & tools, the probability of success is higher; but of course, in combination with other factors!?
Okay so, here is what you should ideally ask an agency before hiring it.
If you're looking for SEO services, ask if they use industry-famous tools like Ahrefs, Moz, Semrush, or just struggling with any inaccurate free service.
For email marketing campaigns, Mailchimp or Campaign Monitor are considered to be the best tools. Slack is a communication software specially designed for businesses to manage their internal and external teams.
Do not hesitate to ask questions about the tools and methods. Mind that only the little things differentiate THE BEST from the Rest.
Never Overpromises the results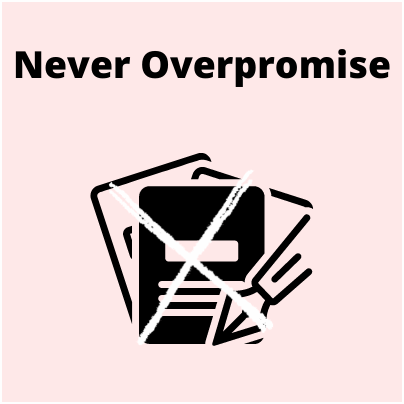 If a digital marketing expert from a firm is very enthusiastic, passionate, and optimistic about delivering good results for your business, it's not a red flag.
A red flag is when he promises to deliver something that most digital marketing agencies never claim with 100% certainty. It is time to run and never look back!
Look, the problem here is not overpromising. The issue is claiming to deliver something nearly impossible or promising something you don't have testimonials for.
Let me make it more clear to you.
If a digital marketing agency promises to build your website, content strategy, and content optimization from scratch, it is fine. But if they say that your content will rank on the number 1 google result within one month, that's silly! After hearing this statement, I would burst out of laughter; leave signing a contract on the other side!
So beware of such over promisers and under-doers when you're looking for the right digital marketing agency.
What Are The Area Of Expertise?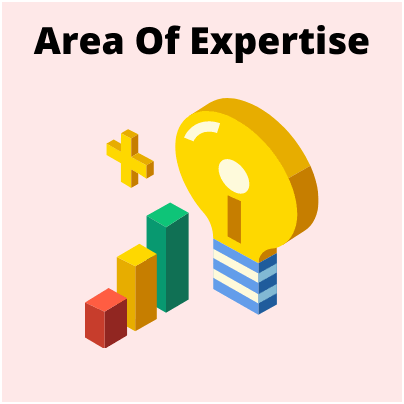 It is also very critical to ask about the area of expertise. Actually, you should ask the area of expertise before any other question. If you don't ask about the expertise before communicating your requirements, the digital marketing company might accept your project.
But should I tell you what your business will be for such a marketing agency?
It will be not anything more than a lab rat. They will run experiments on it with their under-developed skills.
So, it is very important to ask the expertise of a digital marketing agency before proceeding with your requirements or other questions.
Why Should I Hire A Digital Marketing Agency?
I am not happy to tell this that in my digital marketing experience, I met many clients who had done a lot of experimentation with digital marketing.
Many small business owners believe that they can take care of their online marketing aspects if they have the tools. It was true in the initial days of the internet when more businesses were kept traditional. At present, you cannot expect to rank on the first page of Google by stuffing keywords alone; leave other aspects of digital marketing aside.
 Read: Digital Marketing How Does It Matter For Your Business?
When owners are exhausted by wasting their time, money, and enthusiasm, they often switch to digital marketing agency services.
But I am telling you why you should hire a digital marketing agency instead of doing it by yourself. Save yourself from future frustration and read it.
A Cost-Effective Solution
Hiring a digital marketing agency services is a more cost-effective solution than doing it in-house. It requires increasing your marketing budget by a big percentage to completely manage your digital marketing function. Purchasing all digital marketing tools alone will cost you a lot every month. Therefore, hiring external services is a more sustainable and cost-efficient substitute.
You Can Focus On The Business
Managing digital marketing in-house is not only costlier but also time-consuming. You must be equipped with the knowledge of digital marketing for successfully running campaigns.
Your all-time might be eaten up by digital marketing alone. To avoid this scenario, you can hire external firms to manage it for you to have more time to focus on your core business.
Experts Get You Covered
Another advantage of hiring digital marketing services from an external firm is getting covered by the experts. They know about the nitty-gritty details and complicated processes involved in digital marketing. A task that might seem time-consuming to you is an easy and quick job for the expert.
You Don't Have All Tools
Again, if you purchase all the tools in-house, it will raise your monthly costs of marketing. The external digital marketing firms have all the upgraded and proper tools for running the marketing campaigns. You should trust them for running your marketing campaigns.
Final Words
There are so many other benefits of hiring a digital marketing agency for your business. It includes on-time delivery, getting new ideas about digital marketing, improved ROI, and regular maintenance. In the coming days, the reliance on digital marketing will be even higher. It is the right time to take action and get yourself and your business covered by the services of experts.