Which is the most important reason for that entrepreneurship fail?
Entrepreneurship is addictive to those who succeed in their first venture, but it's not the case with everyone. Only 25% of all new businesses have existed for more than ten years. What happens to the remaining 75% of entrepreneurs who fail to sustain their small businesses or ventures?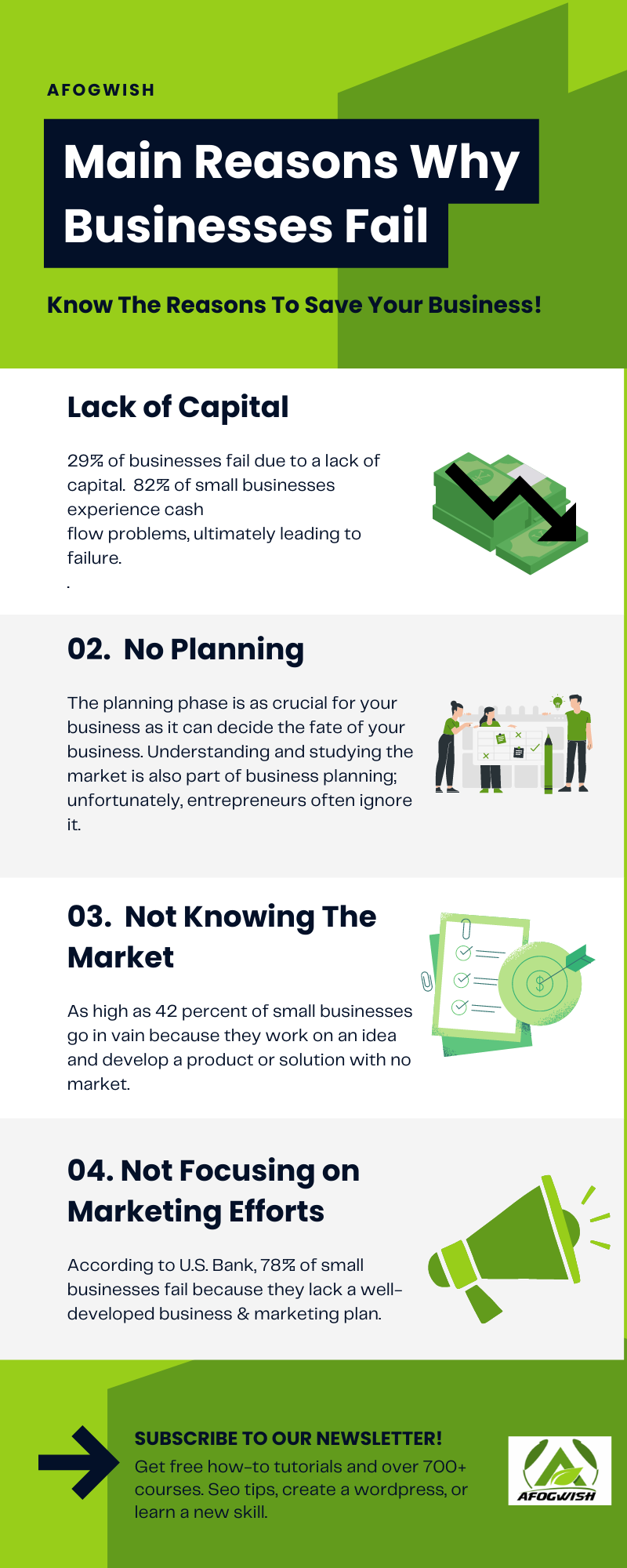 There is not just one reason behind the failing entrepreneurs, but many things go wrong to make the entrepreneurial venture go down the track. The important thing is some entrepreneurs' resilience that keeps them trying repeatedly.
Read more: 5 Ways to get startup financing for your new small business
Today, I will tell you about the main reasons why entrepreneurs fail in business. If you're already into the business of entrepreneurship or just planning to step in, this will be a go-to guide for craving the right path for yourself.
Lack of Capital and Capital Management Issues
Lack of capital and the right resources is one of the biggest reasons entrepreneurs fail in their businesses' early stages. A significant percentage of 29% of small businesses and entrepreneurial ventures fail because they run out of cash. It is around 2/3rd of all startups. Besides, a whopping 82% of small businesses experience cash flow problems, ultimately leading to failure.
The failure due to capital problems is not only limited to small enterprises and entrepreneurs. Multi-million and multi-billion companies can also fail due to poor capital and money management. At the beginning of the year, Enron, a $100 billion company, filed for bankruptcy at the end of the same year. Shares of the company were trading at $90.75 before the company filed the bankruptcy.
What was the reason for the stock market darling coming down the track?
There were management issues regarding financial disclosure, and management exploited the accounting loopholes to hide the debt and failed deals.
An example of an entrepreneur facing capital management issues is Hiten Shah, the co-founder at KISSmetrics. We can call it poor planning or capital management, which led the company to waste $1 million on a company that could never launch. The example of Hiten Shah also highlights the lack of planning and management can ruin your running or new business.
Being said that,
lack of planning
also leads to business failures.
A famous quote says if you fail to plan, you plan to fail.
Unfortunately, many entrepreneurs lack proper planning when entering the dot com startup wave. Either they're trying to take a bite more than their capacity or shooting for too low. As a business entrepreneur, you have to plan in a way that all the resources are allocated to support the growth of your business and not push it down.
When I say planning, there is a big syndrome in entrepreneurs when they claim I can do it all. Every individual has their area of expertise. If you want your business to survive, you must understand this fact and live by it. As an entrepreneur, you must be resourceful, but that is not your business's only resource. Make up a good team if you don't want to end up in pieces.
The planning phase is as crucial for your business as it can decide the fate of your business. Understanding and studying the market is also part of business planning; unfortunately, entrepreneurs often ignore it.
If you're
entering the market without knowing it,
you are entering to fail.
Whom are you going to sell your product or service?
Where are your most qualified leads and customers?
Is the market ready for the solution you have come up with?
According to market dynamics, how long will it take to make your first sale according to market dynamics?
These are only some of the questions entrepreneurs need to answer before venturing into the startups.
Sometimes, the market might not be ready for a solution yet. The best example of market readiness is Webvan, a revolutionary dot-com startup in the late 1990s. A business valued at $1.2 billion in 1999 lost it in 2001 by laying off 2000 employees, shop closure, and bankruptcy claims.
The reasons were simple! They might have failed to assess the market readiness for accepting a home-delivery service for groceries. The solution was excellent. The business idea was viable, and the solution had the market. But they didn't plan it with the market; instead went after the trend of GO BIG FAST. As soon as they decided to expand their business to 26 cities, the logistics became a nightmare for the company resulting in losses of $830 million.
The example is both lack of planning(what will we do if something goes wrong) and not understanding the market.
Besides, many entrepreneurs enter the market with a solution that is not needed or will eventually die. As high as 42 percent of small businesses go in vain because they work on an idea and develop a product or solution with no market.
With that said, marketing your business is also crucial to decide your fortune. In the era of digital and internet marketing, they call it right as the double-edged sword of SEO. If we don't talk about the other marketing strategies like social media, conventional media, running ads, etc., and focus alone on SEO, I can say a lot.
I will try to help you understand the importance of marketing and its contribution to business failure with the example of Tutorspree. Launched in 2011 as a startup from Startup incubator Y Combinator, the startup was seen as the Airbnb of Tutoring. The business idea was to help parents find and locate suitable tutors for their kids online. It had 7000 signups from tutors in the first two years and earned around $1.8 million. But the company went down the track in a few months?
They had impressive capital, strong investors, planning, and scalable business idea, and even they were scaling it substantially.
SEO is the core area in the business plan for eCommerce businesses, internet businesses, or digital marketing businesses. Where they went wrong was the marketing. They didn't change their marketing strategy when Google changed its algorithms in 2013. The dot-com startup lost its 80% of traffic overnight. It was just because of an algorithm change.
They ended up the business, but the CEO of Tutorspree said something worth mentioning:
"Nor is the largest lesson for me that SEO shouldn't be part of a startup's marketing kit. It should be there, but it has to be just one of many tools. SEO cannot be the only channel a company has, nor can any other single-channel serve that purpose."
Final Words
From Jeff Bezos to Reif Hoffman, everyone has encountered failures in their ventures and startups. What makes them different from 75% of failing entrepreneurs is their resilience and consistency in success. I hope this guidance post will help you identify and rectify the mistakes you might be making or have thought casually about.